You might be thinking, "Is fax still used?" And you wouldn't be alone in that thought. In this digital age, faxing might seem like a relic of the past. But believe it or not, there are still times when we find ourselves needing to send a fax. Whether it's a legal document that requires it, a business partner who prefers it, or even a personal situation where it's the most practical option, faxing hasn't completely disappeared from our lives.
But let's be honest, who wants to commit to a full-fledged online fax service for those few and far between instances? We know we don't. That's why we started looking for one-time use alternatives. Services that don't require us to sign up, remember another password, or commit to a subscription.
That's where one-time-use online fax services like FaxZero and PayPerFax come in. They offer the convenience of modern technology with the reliability of traditional faxing, no strings attached. FaxZero has served millions of users over the years, offering a reliable and straightforward way to send faxes.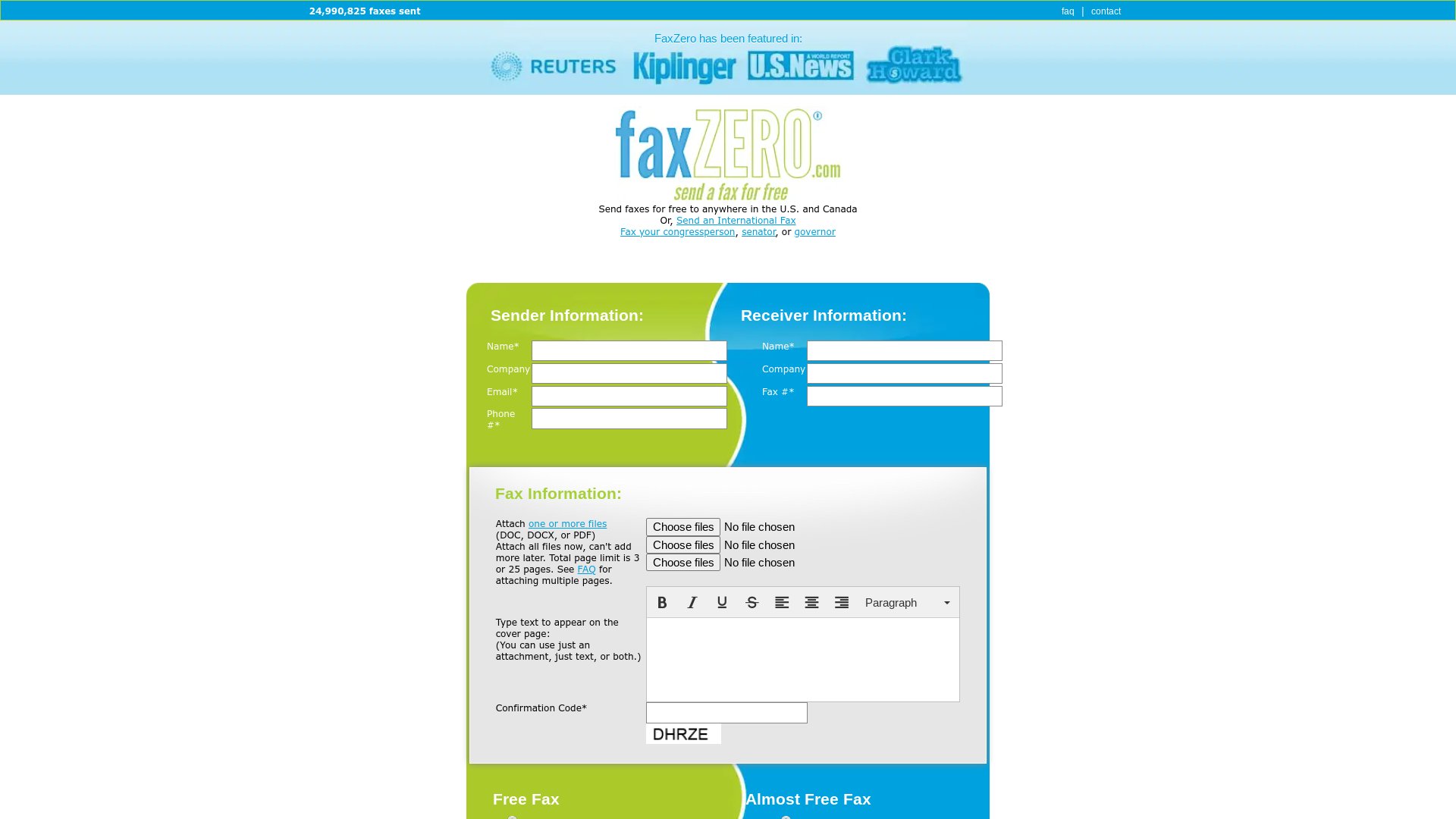 However, as with any service, there are areas where FaxZero could improve. This is where PayPerFax comes in, offering a modern, user-friendly alternative that addresses FaxZero's shortcomings.
FaxZero: A Review of their Offering
FaxZero has been a popular choice for online fax services, largely due to its simplicity and cost-effectiveness. It offers both free and paid services, catering to a wide range of users.
Features
Ease of use: FaxZero is designed to be straightforward and user-friendly. Users can send an internet fax via FaxZero in a matter of seconds. All that's needed is to fill in your name, email address, and phone number along with the recipient's name and fax number. You can quickly attach files with a single click and easily customize the text of your cover page.
Supports multiple file types: FaxZero supports a wide range of file types, including PDF, DOC, DOCX, RTF, PNG, JPG, XLS, XLSX, TXT, HTML, TIFF, GIF, and PPT. This flexibility allows users to send various types of documents without needing to convert their files to meet a specific requirement.
Free online faxing: For users in the US and Canada, FaxZero offers a free fax service. This service allows users to send up to three pages plus a cover page, up to five times per day. This makes it a suitable choice for non-business use and low-volume needs.
PC Mag says:
"…you can send a reasonable number of faxes to recipients in the US and Canada for free on a daily basis. Unfortunately, … its pricing for premium and international faxing is high."

PC Mag
International faxing: FaxZero supports international faxing to over 200 countries and territories. The cost for international faxing varies based on the cost to dial the specific location, but it's typically around $3.63 for up to 15 pages.
No account required: One of the appealing aspects of FaxZero is that users don't need to create an account or sign up for anything to use the service. The only requirement is a valid email address. This makes it a quick and convenient option for users who need to send faxes infrequently or on a one-off basis.
Email confirmation: FaxZero provides an email confirmation when the fax goes through, so users don't have to worry about whether or not their fax was delivered. If the fax fails for any reason, FaxZero sends an email explaining what went wrong.
Security: Check out our separate article that addresses the question, Is FaxZero safe? Short answer: yes.
Limitations
While FaxZero offers a range of features that make it a viable option for online faxing, it's worth noting that it does have some limitations, particularly when compared to newer services like PayPerFax.
Reviews from reputable sources like TechRadar, Tom's Guide, and Crazy Egg have highlighted some areas where FaxZero could improve.
Outdated interface
One of the main criticisms of FaxZero is its outdated interface. As TechRadar puts it,
"FaxZero's interface feels like it's from the late '90s."

TechRadar
While this doesn't affect the functionality of the service, it does impact the user experience, making it feel less modern and intuitive compared to newer services.
Clunky sending process
Another point of contention is the slow, two-step sending process for free faxes. As Tom's Guide notes
"Your FaxZero fax will not send instantly: You must first wait for an email with a link to your fax, and then click on the link to deliver it."

Tom's Guide
This extra step is a measure put in place by FaxZero to deter spam use of the service. While this is an understandable precaution, it can be a bit of an inconvenience, especially for users who need to send faxes quickly. The extra time it takes to receive the email, click the link, and then wait for the fax to deliver can be a nuisance.
Ad placement on faxes
Additionally, FaxZero includes ads on the cover page for free faxes. While this is understandable for a free service, it can detract from the professionalism of the fax.
Lack of mobile support
FaxZero also lacks mobile app support, which is a significant drawback in today's mobile-first world. As PCMag points out,
"FaxZero lacks a mobile app, which is a significant disadvantage in an increasingly mobile world."

PC Mag
Low resolution
Lastly, FaxZero's support for graphics-oriented faxes is limited. As Crazy Egg notes,
"FaxZero is a better option for sending documents that are mostly text-based. If you're sending images, you can expect most of the details to be lost and blurred."

Crazy Egg
PayPerFax – the FaxZero Alternative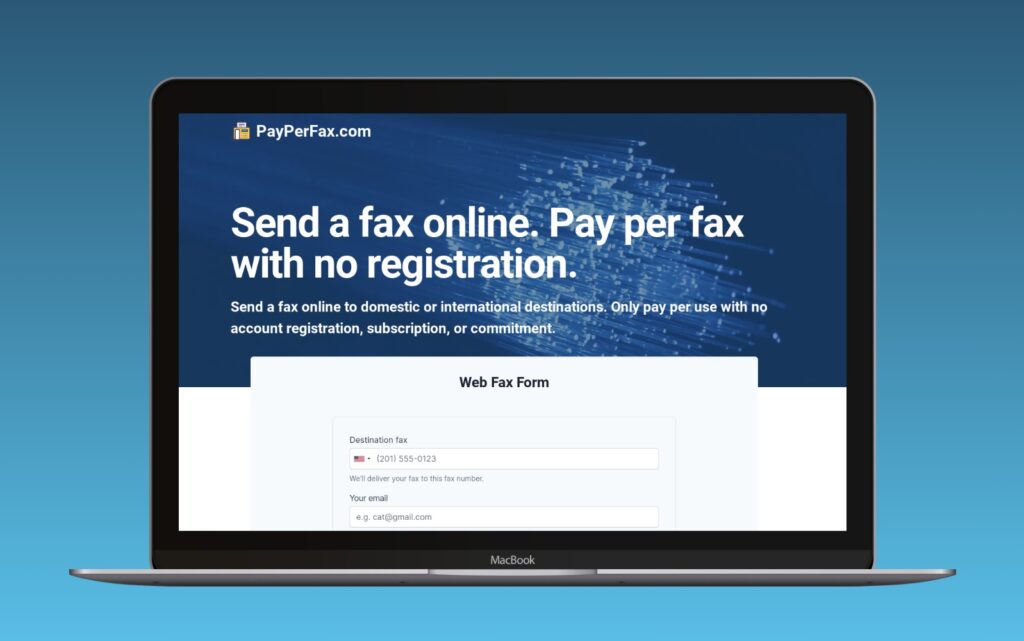 Features
Modern look and feel
Enter PayPerFax, a modern, user-friendly alternative to FaxZero. PayPerFax prides itself on its modern interface, a stark contrast to FaxZero's outdated look. It offers a clean, intuitive design that makes it easy for users to navigate and send faxes.
In terms of accessibility, PayPerFax shines with its layout, legible font choice, and high contrast colors. These features make it more user-friendly and inclusive, catering to a wider range of users.
Mobile device compatible
One of PayPerFax standout features is its mobile device compatibility. Unlike FaxZero, PayPerFax understands the importance of mobile access in today's world and offers a mobile-friendly service, allowing users to send and receive faxes on the go.
Low international rates
When it comes to international rates, PayPerFax offers competitive pricing, making it a cost-effective choice for businesses and individuals who frequently send international faxes.
No ads on faxes
Lastly, PayPerFax does not add ads to the fax, ensuring that your faxes maintain a professional appearance. This is a significant advantage over FaxZero, especially for business users.
Conclusion
While FaxZero has been a reliable service for many years and continues to serve a large user base, PayPerFax emerges as a strong alternative, addressing FaxZero's shortcomings.
FaxZero has served its users well over the years, and it continues to do so. It's a solid service that has stood the test of time. However, in an era where user experience, accessibility, and mobile compatibility are paramount, you may want to review PayPerFax as an alternative.